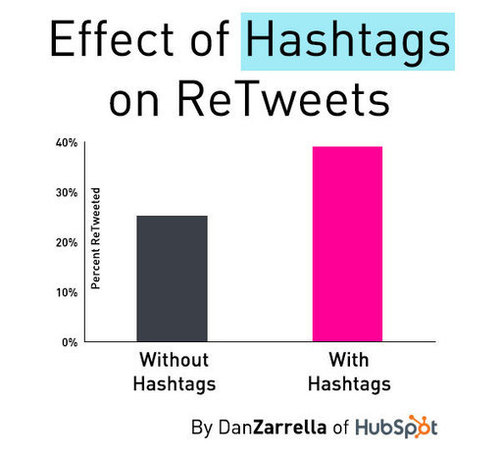 Continuing my new research into ReTweeting behavior, I also looked at non-alphanumerical characters and their relationship to new-school, native,
See on danzarrella.com
9 Ways to Get Followers on Instagram
Instagram is an app for iPhone, iPod Touch, iPad, and Android that allows users to share and upload photos within the Instagram community or across social networks. To get followers on Instagram, try the following tips and techniques!
1) Be selective with your photo uploads. The best way to gain new followers on Instagram is to provide content that is valuable to users. Nobody wants to be bombarded with detailed photojournalism projects on what you had for lunch or how sexy your feet look in those new sandals. Upload only your best shots––and not in one huge lump, or people might miss them.
2) Use hashtags. Hashtags can help you attract users who are searching for a particular type of photo or subject. (For example, if you take a picture of the Eiffel Tower, include "#paris" or "#eiffeltower" in the description and anyone looking for photos taken in Paris will be able to find your picture.) Using popular hashtags can also help you capitalize on what's trending. For example, go to web.stagram.com/hot/ and see if any of the hashtags apply to your own photos––even old ones.
3) Try to use as many hashtags as possible. Even if someone taps on a hashtag that has nothing to do with your picture and they stumble upon it, they may like it, and/or even start following you.
4) Geotag your photos. People are interested in photos from locations that they know. On top of that, as you post geotagged photos, Instagram brings up other photos from that location. This means that other people posting photos from the same location as you might see your pictures and follow them to your profile.
5) Follow and compliment other users. Spreading feelings of goodwill is a great way to increase your own base of followers. Do it sincerely, though; following a few people with intent is more effective (not to mention far less obvious) than playing a numbers game.
6) Make sure your account is public. To check your account's status: From the settings page, tap on "Edit your profile", make sure the "photos are private" doesn't have a check mark on the box beside it. This allows other Instagram users to follow you and view your photos without your authorization.
7) Share your Instagram photos across your other social networks. This makes it easy for your friends and other Instagram users to find your photos and potentially become a follower.Launch the Instagram app on your mobile device. Click the icon on the far right to get to the settings page. Scroll down and click on Edit sharing settings. You'll see a list of social networks that you can link to your Instagram account (Twitter, Facebook, Flickr, Tumblr, Foursquare). Click any name and you'll be asked to enter your username and password to link accounts. The more social services you share your Instagram account with, the more you can promote your photos and increase your following.
8) Find and invite friends. This can be done from within the @(YourAccountName) settings tab on the far right. Users like to follow users who have a lot of followers. This is why it can be difficult to gain followers early on. Getting friends from other social networks to follow your Instagram account is crucial for building an initial follower base.
9) Check out what popular users are posting on Instagram. (These are listed under the "Popular" tab.) Use these images for inspiration – though make sure you don't outright copy anyone else's shots or style. If you are posting photos that users find valuable, they will quickly follow you and encourage others to do the same.