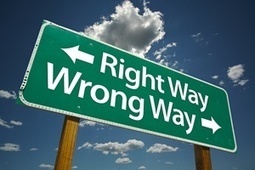 Excerpt from the guest post by Patricia Hume, President of Trapit, and published on MarketingProfs:
"It's impossible for marketers to create enough original, quality material for each channel every day, which is why many rely on content curation to help build brand awareness and generate leads via social media and email marketing.
Here are five of the top content curation mistakes that B2B marketers need to avoid if they want to offer their audiences value, rather than noise.
1. Skimming the Headline and Sharing Immediately
A good headline doesn't mean a good article. Sometimes, it doesn't even mean a relevant article. That's why it's important to take the time to read the entire article before sharing it with an audience.
Content curation is about showing thought leadership, too; so, if you don't engage with the article yourself, then you can't show your expertise about the topic.
2. Checking Only the Most Popular Stories and Sources for Content
If your content curation is supposed to attract people to the brand for originality and thought leadership, depending on the most-visited sources and most-read articles is merely going to backfire. Your social media accounts won't stand out, and prospects and customers won't see the value in following them.
3. Not Personalizing for Your Audience
In a world of almost infinite content, your audience is going to be interested only in the stories that are most relevant to their needs.
You should carefully consider the target audience for each piece of curated content.
4. Promoting the Same Content Across Every Channel
One tactic that's employed by time-starved marketers is to share one link across a few different channels, all at once.
Ultimately, doing so undermines the purpose of content curation.
5. Spending Too Much Time Curating Content
It can take hours to create a blog post, and just a few minutes to curate content. So marketers may write blog posts a few days a week and fill the gaps in output with curated content very quickly.
But curating good content that effectively engages the audience—and making sure each piece is promoted and distributed in the context of each social environment—can take hours…"
Read full original article:
http://www.marketingprofs.com/articles/2014/24500/five-content-curation-mistakes-b2b-marketers-are-making
See on www.marketingprofs.com