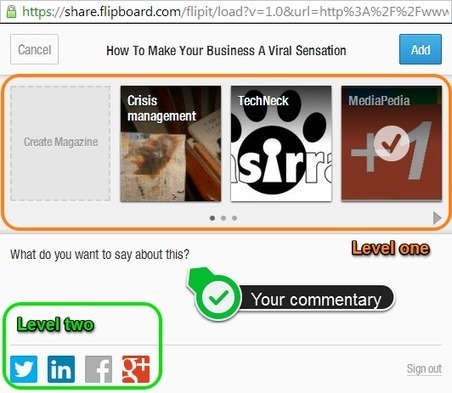 Excerpt from article on Social Media Explorer:
"Flipboard had a huge hurdle to overcome: Who cares about sharing in an app that only a handful of people use very often anyway?
The solution came from "unbundling" the simpler tasks that we think of when it comes to "sharing" something:
– Snagging
– Routing
– Context
– Subscription
Ideally, if you've thought about a curation strategy at all, you understand that you don't have to create metric tons of awesome content if you can be the go-to person to find it and share it. Certain topics lend themselves to a lot of information, and your value as the sifter of the wheat from the chaff is not to be overlooked.
So what is Flipboard doing that is so special? It has moved beyond the app, into categorization, collection and personalization.
Here's what that workflow can look like:
1. Sharing Starts Where You Find Things…
2. More Channels is Better…
3. Sell the Sizzle AND the Steak…
4. Friction-Free Sharing…
5. On the Flip Side…
This could be the ticket for a busy entrepreneur with limited time for writing and "thought leadership," but who is enough of a topical consumer of links that filtering and sharing can become second-nature.
What Flipboard has done is made the acts of sharing, compiling, and curation as frictionless and as inclusive as ever. And being able to target specific networks in isolation or in bulk is a time-saver…"
Each point is analyzed with more information.
Read full original article here:
http://www.socialmediaexplorer.com/social-media-marketing/flipboard-as-your-monster-sharing-hub/
See on www.socialmediaexplorer.com